Jump to: Department of Genetics and Molecular Biotechnology
Department of Biodiversity and Ecosystem Management
Bioinformatics and Biodiversity informatics unit
Environmental Chemistry and Microbiology unit
Department of Genetics and Molecular Biotechnology

The Department has one of the best equipped genetic labs at European level for marine genetic studies with state-of-the-art apparatuses, which include:

Next generation genome sequencer FLX (454, Roche)
Dual OpenArray Real Time PCR Platform (Applied Biosystems) for SNP genotyping and gene expression

10 thermal cyclers (PCR machines), (MJ Research, BIORAD)

Microarray scanner (GenePix 4100)

Robotic sample manipulator BIOMEK 2000 (Beckman)

Robotic workstation for automated purification of DNA, RNA, or proteins (QIAcube)

Photometers (QuantiFluor™-ST, Nanodrop 1000, and other)

Agilent 2100 Bioanalyzer

TissueLyser

Coulter counter (Beckman) for counting particles and cells

Laminar flow cabinet (Telstar Bio-IIa)

Computer Cluster for genome sequencer FLX (GS FLX Titanium Cluster)

Standard laboratory equipment like centrifuges, autoclaves, speed-vac, deep freezers, ovens, pHmeters etc.
_____________________

Department of Biodiversity and Ecosystem Management
The laboratories of the Department are equipped with the facilities for processing of:
a) biological material (e.g. sorting, biomass and abundance measurements, identification of species):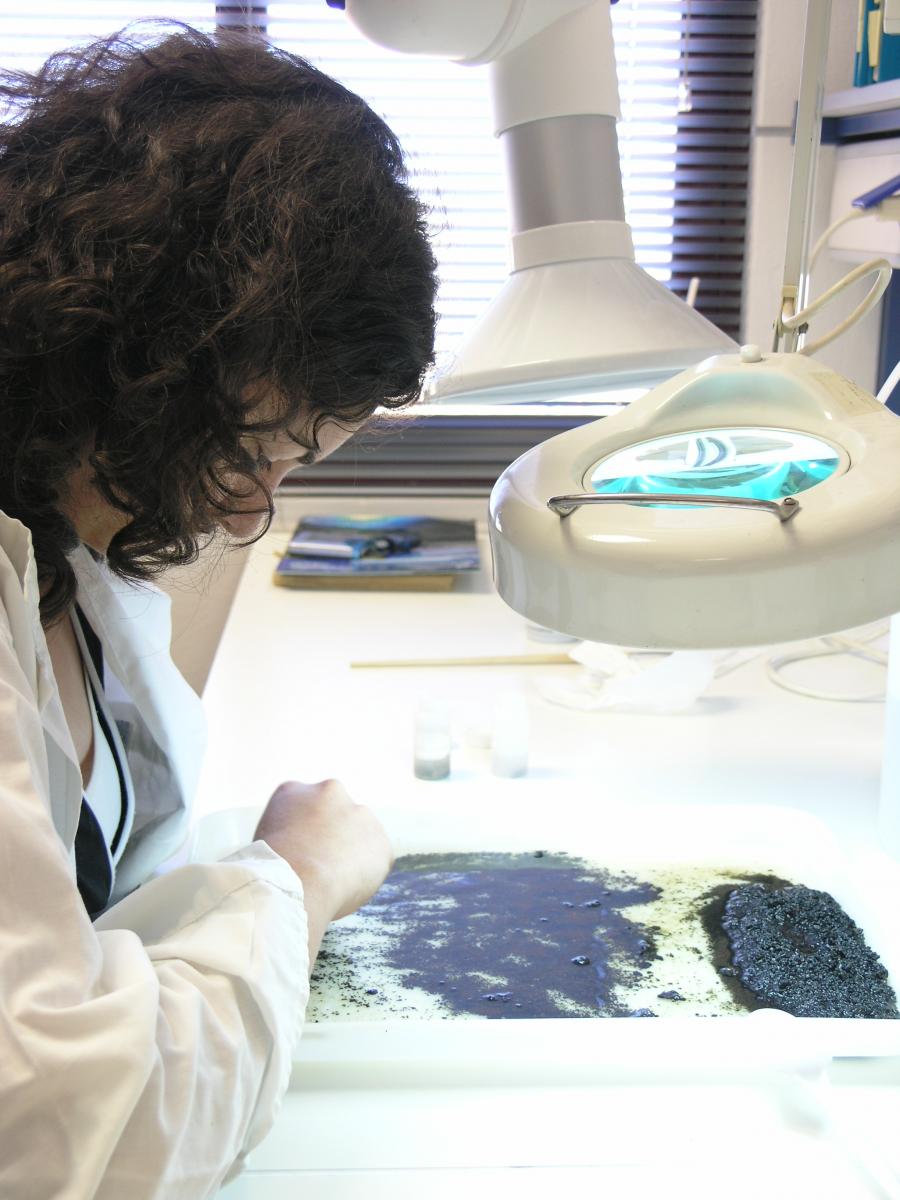 precision balances

stereoscopes

light microscopes (with still and video facilities)

rich literature containing taxonomic books and papers
b) sedimentological material:
mechanical sieve shaker

a large water bath for pipette analysis

incinerators

ovens
The laboratories are also equipped with the proper facilities for:
The final analysis of the obtained data is carried out using a number of multivariate techniques by means of software packages related to the analysis of environmental and ecological data (PRIMER, DECORANA, SPSS, etc) along with some packages developed within the IMBG.
The Institute has also free access to all existing large-scale structures/facilities of HCMR:

deep sea vessel "THETIS"




ROVs




small crafts

RoxAnn (mapping of the seabed)

CTDs (measuring in situ of hydrographic parameters in the water column, e.g. PAR, temperature, salinity)

Niskin water bottles (5l) (determination of nutrients, organic carbon and chloroplastic pigments in the water column)

hyperbenthic sledges (sampling of BBL fauna close to the seabed and mapping of the seabed)

grabs, corers (sampling of benthos in the sediment which are also used for grain size analysis of the sediment and determination of chemical parameters, e.g. organic carbon, chloroplastic pigments)

otter trawls (sampling of demersal fish mostly for further stomach content analysis and genetic analysis)

WP2 plankton nets (sampling of zooplankton in the water column)

diving equipment, digital cameras and videos
___________________
Supporting Units
The Bioinformatics and Biodiversity Informatics Unit
The Bioinformatics and Biodiversity Informatics Unit has two computer clusters for parallel computing, of 40 and 96 cpus each (136 cpus in total). The unit includes storage space and can be extended both for computing power and storage capacity. The two clusters have the following characteristics:
Cluster I: 40 cores Xeon at 3Gh, 96 GB RAM, 3 TB storage, 1 Gbps ethernet interconnection
Cluster II: 96 cores Xeon at 3.4 Ghz, 408 GB RAM, 15 TB RAID 10 SAN storage, 10 Gbps interconnection. Cluster datasheet

The Environmental Chemistry & Microbiological Unit
This Support Unit is fully equipped to carry out in-house a wide spectrum of integrated research activities, for the benefit of all HCMR institutes and departments located in the Crete Centre. It also provides a full range of services for the varied needs of local government and the tourist industry.
Of the two analytical chemistry labs, one is fully equipped to carry out measurements of organic carbon, chlorophyllous pigments, ATP and nutrients, using up-to-date instrumentation such as fluorometer, biocounter spectrophotometer, CHN analyser and a 5-Channel nutrients analyser. The second analytical laboratory was specially designed to investigate marine pollution and environmental problems with the sensitive equipment needed for the accurate measuring of heavy metals, pesticides and hydrocarbons, including an atomic Absorption Spectrophotometer, a High Pressure Liquid Chromatograph and a Gas Chromatograph.
The microbiology laboratory is equipped to a very high standard to undertake the analysis of marine waters, in particular those water samples taken under the regular monitoring programme for the Cretan coast - an obligatory part of the EC Bathing Waters Directive. The laboratory has all the equipment necessary (plating, incubation, sterilising) for the carrying out of specific analyses and identification of all anthropogenic pathogenic bacteria, and in particular, coliform, faecal coliform, and streptococci strains.